Weird confession: I love cleaning windows. We all have the chores we love (for me: windows, vacuuming, and scrubbing sinks) and the ones we hate (for me: scrubbing showers/tubs, emptying the dishwasher, and putting away folded laundry). Windows are the ultimate detail work for me, and a clean window (or mirror, for that matter) has an instant impact on a room.
Because I like cleaning windows, I've developed a lot of opinions about how I like to clean them and what I like to clean them with. I love Windex, but sometimes I prefer to make my own to switch it up or save money or just because. I always make my own window solution when I'm doing a deep clean, because I like to make a big bucket with hot water and a spritz from spray bottle of cleaner just doesn't feel as satisfying and hot water and suds.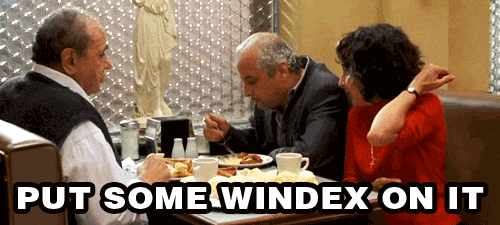 My window cleaner recipe, like many out there, includes rubbing alcohol and vinegar. However, I also include dish soap, (which some folks don't do) because I feel the soap helps break down grime and grease marks better and more quickly (also I use dish soap for everything — read more here). It also helps the solution cover the glass — vinegar and alcohol without the soap doesn't cling to the glass very well. So don't skip the dish soap!
Here's how I make glass cleaner in a (standard 23 oz. size) spray bottle:
Add the following straight to the bottle: about 2 tablespoons rubbing alcohol (any percentage will do); about 1 teaspoon dish soap (again, any type will do, but blue Dawn gives the blueish tinge that means "window cleaner" to everyone's brain); about 2 tablespoons white distilled vinegar.
Fill the bottle about 1/2 to 3/4 full with water. Make sure to tilt the bottle so the stream of water hits the side and doesn't create too many bubbles.
Replace cap and use! You can give the bottle a quick shake to reincorporate the ingredients before each use (a bit of separation is natural, like Snapple says).
You can add the same ingredients in similar proportions (but overall larger amounts) to a bucket and add hot water to make a great window cleaning solution for bigger jobs. Use a rag (don't wring it out too much, you want it to be like a wet mop) to scrub the window and remove the excess with a squeegee. Trust me, your windows will literally be squeaky clean.
Thanks for reading!