Funnily enough, people who hate cleaning often make the best cleaners. When you hate something that's a necessity, you'll do anything you can to improve it or make it easier. I HATED cleaning growing up, but like most adults, I eventually figured out clean rooms are nice to live in (go figure).
In the name of livable rooms with minimal infringement on my Masterpiece Theater and blank staring time, I've done my best over the years to figure out the easiest and most efficient ways to keep my space clean. Cleaning is an art and a skill, and as is the case with so many things in life, knowledge is power. So, in the name of scientific endeavor, here are my 10 tips for keeping your house livable and clean(ish).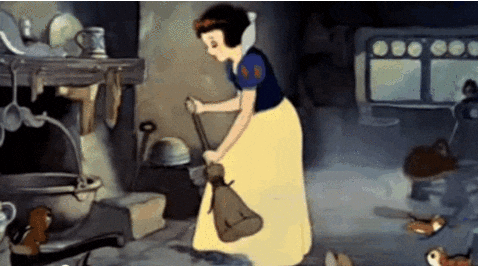 Never go with empty hands. This is a rule in restaurants for a reason. Think about how often you walk from one room to another in a day. If you're passing through the kitchen, grab a dish. Headed out to the car? Take out the garbage on your way. It won't eliminate clutter, but it will definitely help. (It's also fun to say this phrase to family members in a sing-song voice whenever they leave a room. Seriously, people love it.)
Make it fun! I love a good cleaning playlist, but sometimes I need more than good music. I switch it up by listening to an audiobook (I often keep cleaning because I'm invested in the plot) or a podcast. Try the Overdrive or Libby apps from your local library to get an amazing selection of free books. I also like to turn on a movie or a show, especially if I'm folding laundry or straightening up the living room. Keeping myself entertained makes it easier to take on big tasks.
Toothbrushes are gold. Never throw away a used toothbrush! Toss it in the dishwasher and keep it for cleaning around faucets, scrubbing window tracks, cleaning gunk out of drains, and basically any task where you need to get into small cracks or details. I strongly believe that there's not much a toothbrush and Simple Green can't clean — words to live by.
Start by clearing the floor. I hear a lot about cleaning from top to bottom (which is important), but if I'm tackling a specific room, I actually start by clearing the clutter off the floor. Pick up clothes, put away toys, and clear as much off the floor as you can before you start cleaning. It will make the actual dusting, vacuuming, etc. much easier.
Wear gloves! Most cleaners, natural or not, are rough on hands. Also, humans are gross. Cleaning a toilet is a lot easier to tackle when your hands are protected. Just make sure you buy a pair for each room (mark them with a permanent marker).
Clean your tools. Give some cleaning love to the things that help you clean! Empty the vacuum canister when you're done cleaning. Wipe down attachments. Wash out the mop head. Wash your broom (and store it bristles up!). Clean your washer. We often forget to clean these things, and they really do need cleaning and maintenance. A full vacuum cleaner that hasn't ever had its filter changed isn't going to work very well, and you can extend the life of your tools by keeping them in good condition.
Toss or keep, don't shuffle. You know the stuff that lives on your dining room table? The old mail, notebooks, hand cream, etc.? It's a better use of your cleaning time to either find a proper place for it or toss it. Shuffling it and cleaning around it ends up taking a lot more time, and your space will look so much cleaner without the clutter!
Treat yourself! Some days incentives are pretty much the only way I get anything done. Save a cookie for after chores. Rent a movie. Take a bath in your sparkling clean tub. Go to Starbucks. Sometimes a clean house or a job well done is motivation enough, but don't forget the carrot part of carrot and stick.
Sometimes good enough is good enough. Give yourself credit for making an effort. If you've had a tough week and you can muster the effort to load the dishwasher but not scrub the sink or do a load of laundry but not vacuum the house, that's ok. Nobody is Pinterest-perfect all the time, and I'll bet good money that a lot of those pictures have the dirty laundry pile cropped out.
Break the rules. Yesterday my husband told me one of the reasons he doesn't really like mopping is because he feels like he has to vacuum super thoroughly beforehand. I told him I often vacuum, mop, and then sweep particularly dirty floors. His response? "Wait, you can do that?" Just because that's how it's always been done doesn't mean that's how you have to do it. If you try something and it works for you (and makes basic chemical sense), go for it.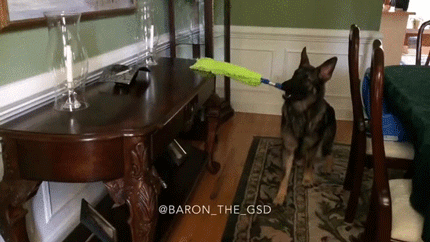 What are your best cleaning tips? Let me know in the comments!
Thanks for reading!